-Cherokee Nation Press Release
TAHLEQUAH, Okla. – The Cherokee Nation is contributing $7.5 million to 107 school districts as part of the tribe's annual Public School Appreciation Day initiative. This year's disbursement is the largest since the tribe began its annual contributions in 2002.
Aside from the millions of dollars the Cherokee Nation provides to the state of Oklahoma for education funding each year through gaming, the Cherokee Nation also allocates 38 percent of its annual car tag revenue directly to education.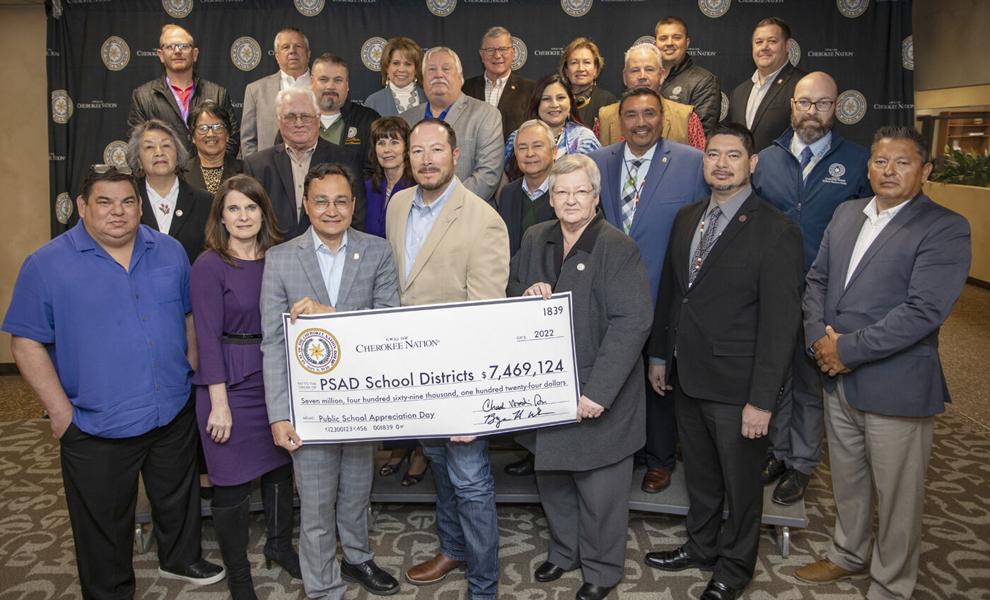 "This year, the Cherokee Nation is once again setting a new record by contributing nearly $7.5 million to 107 school districts in Northeast Oklahoma. This is more than $1 million above last year's contribution. In total, Cherokee Nation has provided more than $76 million to public education since 2002 through the sale of tribal car tags," said Principal Chief Chuck Hoskin Jr. "The past two years have been unlike any other in modern history, and the COVID-19 pandemic has reinforced the importance of working together as community partners to move forward together. I am proud of our longstanding partnerships with school districts in Northeast Oklahoma, and I know our investment in public education means we are all in it together."
Each school district makes the decision on how to use the funding provided by the Cherokee Nation. In past years, schools have used the funds to cover teacher salaries, upgrade facilities, support operations, expand technology and bolster school programs. During the past two years, many schools used the previous contributions to help respond and recover from the impacts of COVID-19.
"The weight we place on the shoulders of our teachers and school administrators is already heavy, but during a global pandemic, that weight only increased. We asked our schools to adapt quickly to an ever-changing situation, and we all had to learn how to navigate the pandemic together," said Deputy Chief Bryan Warner. "Because of Cherokee Nation's annual car tag contribution to schools, we were able to help them weather the pandemic as safely as possible while ensuring students continued to learn and grow. I am proud of our schools for finding innovative ways to adapt. It takes all of us using our talents and callings to step up and lead the way for our children, and with these tribal funds, schools should have more resources to help them succeed."
Kansas Public School in Delaware County uses the tribe's contribution each year to help focus on the needs of students.
"It's great. We appreciate it because it helps us fill in gaps where sometimes we might be under-funded, or it helps fill in gaps with needs the schools have," said Kansas Superintendent Cory Steele. "It goes a long way."
In Bixby, school leaders are able to support educational opportunities that may otherwise have gone unfunded without the tribe's support.
"During uncertain financial times, it is wonderful to know our district always has the support of our Cherokee Nation friends. In addition to their direct support of students who are tribal citizens, their annual contribution to our schools allows us to support programs that might otherwise be unfunded," said Bixby Public Schools Superintendent Rob Miller. "In some years, that might be technology or STEAM resources. Other years, it has been used to promote literacy efforts or SEL programming. Thank you, Cherokee Nation, for your continued generosity and support of our students."
Catoosa students and staff benefit from the yearly contribution in a number of ways.
"Schools across the State are continuously seeking avenues to supplement their general fund budget to purchase greatly needed instructional supplies – be it the latest technology, gym equipment, or simply instructional supplies," said Catoosa Public Schools Superintendent Robert Schornick. "Through our partnership with the Cherokee Nation, each one of our school sites at Catoosa Public Schools has benefited in some form or fashion. It is evident that the Cherokee Nation is deeply committed to providing the necessary tools and resources for our students and teachers to be successful."
School districts receive money based on the number of Cherokee Nation citizens they have enrolled, yet funding benefits all students.
"The Cherokee Nation Tax Commission is proud to play a role in helping schools throughout Northeast Oklahoma make positive and lasting impacts on their students and communities," Cherokee Nation Tax Commission Administrator Sharon Swepston said. "Once again, the support of Cherokee citizens and the hard work of our tax commission staff have helped us provide a record-breaking contribution, and I want to thank Cherokee citizens for choosing to purchase a tribal car tag."